Company Background
TRADE-WIRES.CO.UK is a division of Scientific Wire Company established for over 40 years.We are based in Essex, UK and have an extensive range of wires for all types of uses - including wire for scientific experiments, and wire for craft use.We supply bulk wire to the trade, wire for distributors, wire for schools - experiments, craft and school examinations, and now specially packaged retail products for resale in the craft trade industry.Please email us if you have any wire requirements. We can do special quotations specific to your wire requirements.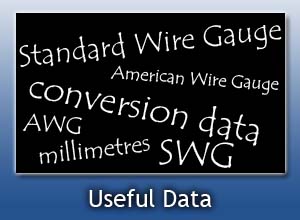 Useful Data
Our list of items are mainly listed with diameters in millimetres.Many people work with wire "Gauges" and will not know the size of wire in millimetres.We have a store section called "Useful Data".It currently has links to conversion data for:"Standard Wire Gauge" (SWG) to millimetre, and"American Wire Gauge" (AWG) to millimetres.
Secure Site
This site is secured by Geotrust QuickSSL during the checkout process, utilising 128-bit SSL certificate thereby offering the highest level of encryption or security possible. This means you can be rest assured that communications between your browser and our web server are private and secure.Click here to check the current status of our SSL certificate.If you do not want to enter your card details, you can order and during checkout select "Send Card Details Separately". We will then wait for you to contact us by phone or fax with your card details before shipping (please do not email card details).